Country Dining Room Painting Idea: Hunter Green Wall Color
by Andrea Elliott
(Syracuse, NY)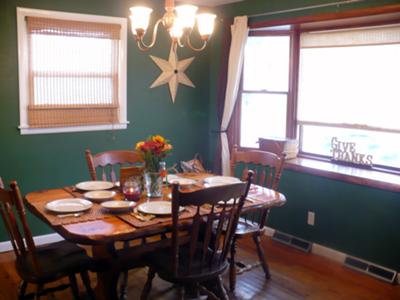 Country dining room painted a hunter green shade
We recently re-finished our basement with the intentions of moving our living room down there, and utilizing the upstairs living room space as a dining room. The walls were a deep neutral tan-like color, but we wanted something more interesting... so we chose to paint it hunter green!


We purchased our paint from Wal-Mart, which we've found is the best value. The store brand they carry is
Dutchboy
which is by far the best quality anywhere for your money. It goes on evenly, and even when painting over a light color, we only had to use two coats.
We used the in-store paint swatches to pick an exact color, as going in we had some sort of shade of green in mind. It was just a matter of picking out the specific shade and having the paint department mix it for us.
It is advised that for those who plan to sell their house in the near future, to choose wall colors that are neutral, earthy and pleasing to the eye. Avoid loud colors that clash with the other walls and feel of the house. Also, think about what shades would complement the room and the flooring.
If the room you are looking to paint lacks windows, you may want to choose a lighter color. If you are looking to make the room feel larger, a lighter color would probably be better as well. The color of your walls will definitely set the mood accordingly, so choose wisely.
Also, be sure to tape edges and use caution when painting around trim and ceilings. The smallest mistake can make the whole job look sloppy.
Even if you plan to stay in your house forever, you want to do the job right, because you never know what the future may hold.
Click here to share your paint color idea and see your name in lights!