Caribbean Style Orange Accent Wall in a Long Corridor
by Lincoln
(Roseau, Dominica)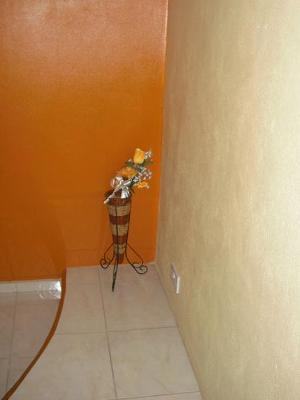 Closeup of the orange accent wall
The Caribbean style accent wall featured here is typical to many Caribbean homes - accent walls are popular here where I live. This accent wall is located towards the end of a three and a half feet wide corridor.


For this reason, we used an orange paint color for the accent wall to help add some life and spice to this long, narrow corridor.
This particular orange paint color is very rich and inviting, but not loud.
At the base of this accent wall you can see a curved step with its side painted the same orange color as the accent wall. This little detail also highlights the corridor and eliminates the dull monotonous look even further.
The choice as to which wall you should select as an accent wall is dependent on the width of the wall. Long walls should not be chosen as accent walls, because they will make the room look even longer.
The color of the accent wall should depend on many factors: the type of the room, the environment in which the house is located, the preference of the home owner, the color of the furniture, etc...
Accent walls can be used in many rooms of your home; they are a great way to bring some vigor and energy to any space.
Click here to share your accent wall idea and see your name in lights!