Candy Apple Red Color Paint on Our Bathroom Walls
by Danielle
(Delaware, OH, US)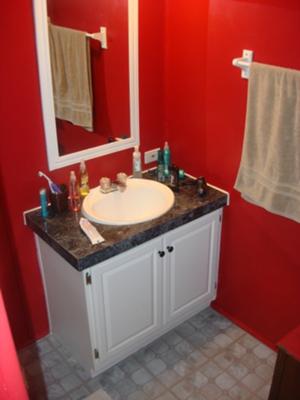 Candy apple red paint in our bathroom
Before we painted our bathroom this shade of red, it was a very cold, boring, greyish purple. It was pretty boring and blank.

We decided that we needed to change the paint color because we hoped it would help sell the house, and also make the room feel a little bit warmer and cozier.


One of my very favorite colors is a deep red. We wanted something that wasn't too bright or gaudy so we went with a deeper red, versus a brighter one. We chose
Bear
brand paint, because we had used and loved it in my son's room.
We had to apply two coats, but it was worth it because it looks great.
One tip
that I would give someone who is painting a room red (especially a bathroom) is that you should TAPE EVERYTHING UP and cover the bathtub somehow.
The red paint is very hard to wipe off of the ceiling if you accidentally miss once or twice. If I had to do it over, I would definitely cover the floor as well.
I had to spend a lot of time after the painting was done getting the paint off of the floor. The bathroom is a very tight place to be painting with a lot of obstacles to work around.
Another thing to remember when painting the bathroom is be VERY CAREFUL painting around the toilet. I got some paint on the back of the toilet that I still can't figure out how to get off.
Also, make sure that you turn the fan on, and keep it well ventilated. We don't have a window in our bathroom, and I had to take some breaks during the process to get out of the fumes.
Click here to share your paint color idea and see your name in lights!