Brown Accent Wall In a Small Apartment
by Aven
(Maryland)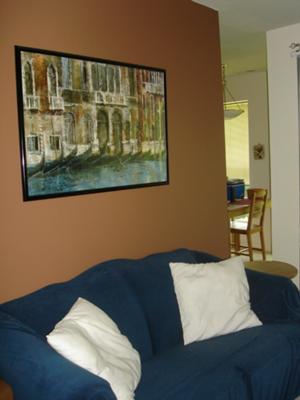 My brown accent wall
My apartment, which I've lived in for two years, was starting to annoy me with its white walls. Since I'm allowed to paint, I decided I would choose one accent wall to paint so I could liven up the place and make a statement.


I picked the small windowless wall behind my loveseat, across the room from my TV. It wasn't too hard to choose the wall since my place is small.
I picked the wall because it wasn't too large and didn't have any obstacles to paint around. I just had to move my loveseat and end table.
To pick the color, I went to Home Depot and got a bunch of paint chip samples to see which one would look best.
I picked the color
"Antique Photograph"
(a brownish color) because it matches the color of my TV stand, goes well with the blue on my couch, and makes the picture hanging above the loveseat stand out.
If you haven't ever painted, definitely don't get too ambitious. Pick a small wall.
Also, if your accent wall is small enough, you might not even need to get a whole gallon of paint, just a pint.
If you have a specific painting or photograph hanging on your wall that you want to highlight, pick a color from it. Definitely get a bunch of color samples and look at them in your home before choosing a color.
Have fun with it. I definitely did!
Click here to share your accent wall idea and see your name in lights!