Bright Yellow Focal Wall in My Apartment
by Lisa Kriv
(Oklahoma City, OK, USA)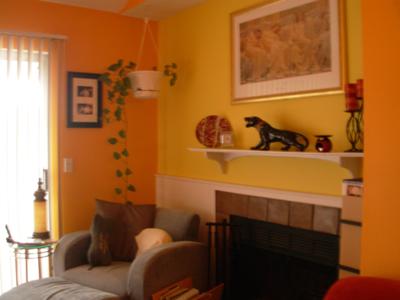 Hot orange and bright yellow walls
For this project, I wanted a very bright and open room filled with rich sunny colors. The ceiling of the living room was very high, so I wanted a color that would accentuate that. There was also white trim and a white fireplace mantle, so the bright colors looked great against the white contrast.


I used the
Behr
brand paint, and bought it at Home Depot. I believe there was a sale going on at the time I bought the paint, so I got a good deal. I bought 3 gallons of the
"Goldfish"
paint color, and made 3 coats to the entire room.
The wall with the fireplace, I painted Behr's
"Yellow Tart"
for contrast and to help the fireplace stand out more. I used one gallon of paint for this wall, and had some left over.
I am really impressed with how this room turned out. It is, by far, one of my favorite paint projects ever!
When I paint a wall, I consider the background color first. These walls were white, but I did not feel it was necessary to buy a primer. Also, since the paint was on sale, I just used multiple coats of the paint to intensify the hue.
I used a roller for the majority of the walls, and a roller on a long handle for the places up high. I, indeed, had to use a tall ladder for this project to get along the ceiling, which was very high!
For the edges, I find it best to use the blue "3M" painter's tape, tape along all the edges, ceiling, floor, trim, and corner's of walls, and then paint along those edges with a 3 inch paint brush. I, then, remove the painter's tape, and a smooth, crisp line appears. It turns out great!
Click here to share your accent wall idea and see your name in lights!