Bright Blue Wall Paint in My Bedroom
by Zabs
(India)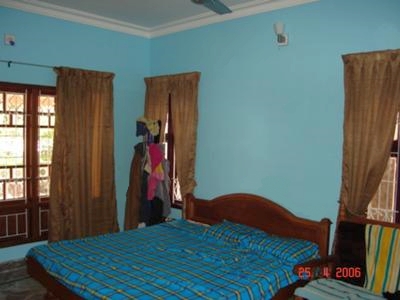 Bright blue paint color in my bedroom
I chose this bright blue wall paint colour for my bedroom for a couple of reasons. First, blue makes the room feel fresher and cooler. Second, it creates a calm and peaceful mood. What more can I ask for after a day of work!


I was deeply involved in the construction of my residence from day one.
Aesthetically, painting is the most important finishing work. All the discrepancies that happened during masonry, electrical or plastering work have to be rectified at the painting stage. There is no finishing after that!
So first, I had all the walls and ceiling puttied. Good quality interior putty always gives a smoother, silkier touch to the finishing.
A coat of cement primer was then applied over this wall putty. This cement primer was necessary to help reduce the growth of fungus. Two coats of plastic emulsion over the cement primer made the finish look gorgeous.
I used JK wall putty and Asian Paints cement primer. The finishing was done with
Asian Paints Royal
plastic emulsion.
Click here to share your paint color idea and see your name in lights!