Bright Blue Wall Paint Color in My Bathroom
by Amanda
(Providence Forge, VA, USA)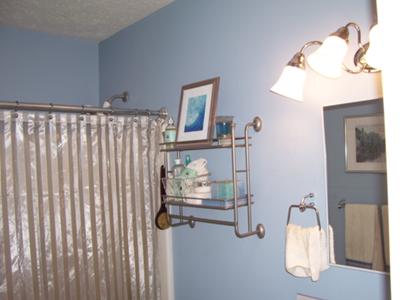 My husband chose this brilliant blue wall paint color
A few years ago I decided I was tired of my plain white bathroom. It was boring. My husband and I went to the local paint store and were trying to decide on a color.


I had an idea of what I wanted but, since I had made all of the decorating decisions in the rest of the house, I let him choose the color.
He chose a beautiful shade of blue called
"Cowgirl Blue"
in a designer's paint color palette.
It was a bit darker than I thought would work in such a small room since darker colors tend to shrink a room, but I told him he could choose, so we bought a gallon of it along with a
Bright White
and some primer for the trim.
That weekend he left on a boys' weekend golfing trip and I undertook the painting of the bathroom.
One thing I did before painting was to remove and replace all of the caulking around the sink and tub surround. I used a latex mildew resistant caulk. I didn't want it flaking off or turning black and ruining my paint job.
While that was drying I did a scuff sanding on the stained trim and used cheesecloth to remove the dust. Then I primed the trim with a high-quality, oil-based, stain blocking primer. It only took an hour to dry. I then painted the trim with an acrylic semi-gloss.
The next day I cut in the walls, then rolled a coat of blue. At first I was worried because the color seemed so bright, but water-based paints darken as they dry and it turned out to be the perfect blue color.
I used a high-quality acrylic satin finish paint, a high-quality synthetic brush (for cutting in) and a high-quality 3/8" nap roller so it only required one coat.
In all, it took longer to re-caulk the tub and sink surround than it did to complete the painting project, but it transformed the bathroom from boring to brilliant.
Click here to share your paint color idea and see your name in lights!