Bold Painting Idea: Volcano Orange Accent Wall in Our Living Room
by Mrunal Gawade
(Pune, India)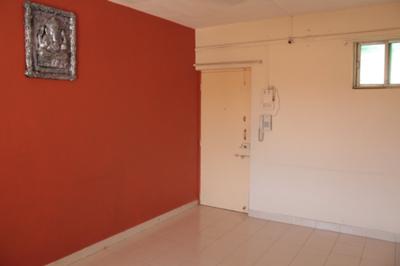 Volcano Orange color can spice up any atmosphere
After spending almost 10 years in a 1 bedroom apartment, I was sure that if we wanted to feel rejuvenated living in it, we had to refresh the look every now and then.


How should we go about it? After a brief thought, we decided to paint the entire apartment in bright colors and totally change the mood of our sweet home.
My father cleaned the walls to remove the old color. We filled in the cracks and leveled the walls. And three days later the walls were ready for a brand new beginning.
Which color to paint them? The task of color selection was with me and my brother. My mother's responsibility was to mix the paint colors.
We decided to focus first on our living room wall.
Volcano Orange
was a unanimous choice as we browsed through the color selection book at a local shop.
We chose Ivory White for the rest of the walls, and it was a perfect combination with just the right contrast. The longest wall in the living room was chosen to be the accent wall, as we planned to hang a Ganesh frame on it.
Painting was a difficult process. We put on three coats with varying thickness. The first coat was the thickest and it was used to level out any uneven contours on the wall.
I used a cloth roller to apply the first coat. The next coat was slightly thinner and was also applied using a cloth roller. The last coat was really thin and I used a sponge roller to apply it. I waited 30 minutes in between the coats.
Painting your own home is fun. Not only does it save you a lot of money, but it also makes you more attached to your home. Try it. :)
Click here to share your paint color idea and see your name in lights!