Blue Accent Walls
by Zabreena
(India)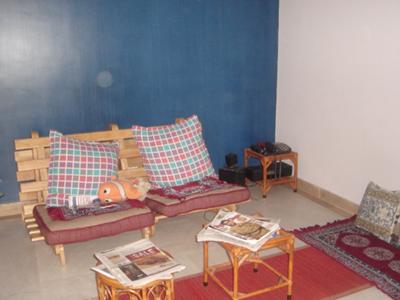 Blue accent wall in my living room
I live in an apartment building where the exterior has a common design and color, and so I thought of changing my interior style to make it unique and stand out from the rest.


I wanted to do something special, so I decided to paint the accent walls differently in my living room and bedrooms.
In the living room I chose the adjoining kitchen and living room wall, which is quite prominent among other walls, so it seemed perfect for accenting.
The other walls in my living room are light violet in color, so I selected a dark blue shade to coordinate with the other walls. Plus, I have a lot of red in the room, and in my mind it all needed to be balanced out with blue.
I used the
Impression
paint from the
Royal
line of
Asian Paints
. There are designs on the wall, and each wall can be made with a different pattern. For example, in the living room you can see some "streaks" on the wall, and my bedroom wall has a fan-like design.
All my guests have given me nice compliments on it and some have even tried this product and technique in their own homes.
You can be very creative with your accent wall by painting it a more vibrant color than the rest of the room.
You can hang beautiful paintings or framed photographs on your accent wall, or install some nice light fixtures or wall sconces to make it even more highlighted.
Click here to share your accent wall idea and see your name in lights!