Blue Accent Wall in My Living Room
by Annemarie
(Indiana)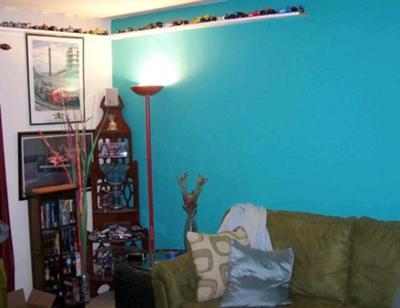 Blue paint color on the accent wall
The walls were white, the cabinets in the adjoining kitchen were white, and the entire area looked so boring. I love bright colors and I just couldn't take it any more.


I went to the hardware store and picked out a really bright blue. Our living room is a long room, and all walls have something on them, so I thought I would break it up with just an accent wall.
Also, with such a bright color, I didn't want to be overwhelmed in the room, just have some excitement.
The wall was covered in a blah plaid wallpaper, so we took that off, and believe me, it was difficult. We used a primer because it was such a bright color, and did the whole project in three days.
The first day was spent taping off the considerable number of things we DIDN'T want to paint - ceiling, baseboards and the other walls.
We used blue painter's tape but we got really poor results. The tape didn't seal and some of it fell off as soon as the paint touched the edge, leaving the surface we wanted to protect uncovered. I don't know if we just got bad tape, left it on too long or what, but it was the worst part of the experience.
The second day we applied primer. Lastly we painted and took off the tape.
I think the accent wall looks great!!
Click here to share your accent wall idea and see your name in lights!