Barely There Yellow Wall Paint Color in Our Living Room
by Sucheta
(India)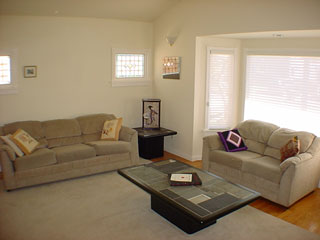 Living room walls painted with 'Liquid Light'
I used a very light shade of yellow paint colour called Liquid Light in my living room, as I feel that dark colours tend to make a space feel smaller.

The colour yellow is also associated with warmth and joy, and I just like the colour very much. It also makes a small space look clean and bright.


There are many brands of paints available but I choose
Asian Paints
because I liked the shades available with them, and moreover, it is a hassle-free way of painting (no need to mix powder with water).
Plus, I had seen my friend's house and liked the way it was painted (she recommended Asian Paints).
I just had to call Asian Paints and selected the colour and product (semi gloss enamel). I gave them the total area of my house and they gave me the estimated cost of painting immediately. They took care about the rest and I really didn't have to worry about anything.
The finishing on the walls turned out excellent and very smooth.
My advice
to others is to always go for light colours. You don't have to use white, but using paint colours that are lighter expands a space more than dark shades.
Click here to share your paint color idea and see your name in lights!