Accent Wall With Geometric Shapes
by Tonessha Wilson
(Decatur, Ga)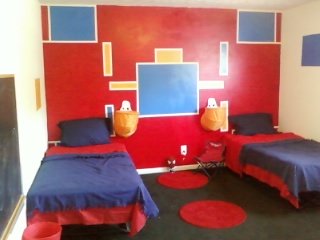 Fun geometric color blocking
Well I started off by letting my son pick his favorite 2 colors, and I selected the third color.

I had intentions on purchasing the circle wall decals but then noticed they were a little expensive, so to save money I purchased three rolls of painters tape and the colors of my choice. And started off with one big square.

The best thing about the painters tape was that it was very user friendly and it allows you to step back and evaluate your design in order to make proper corrections on your preferences before applying the paint.

Click here to share your accent wall idea and see your name in lights!