Accent Wall Painting Idea: Geometrical Shapes - Circles
by Anis
(Malaysia)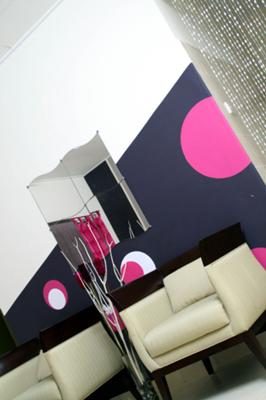 Circle designs on my slanted accent wall
I live alone in my tiny apartment, and I've always liked bright colours - just to add that little excitement to my mundane life living alone!

I choose a very deep purple colour for painting my accent wall. I thought the deep purple would turn out really dark if painted onto a full height wall, so I painted it in half, and at a slant!

Then I decided to paint on several circles in fuchsia and white paint colour for a playful contrast.

Nothing would stop me to go all playful in the comfort of my own home. You should try doing something creative in your own home, it's fun!

Click here to share your accent wall idea and see your name in lights!