Accent Wall in an Open Floor Dining Area
by Carrie
(Wisconsin, USA)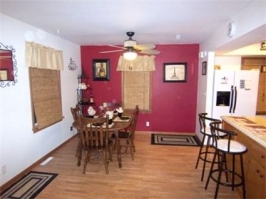 The accent wall helped to visually shorten the room
Our home is a Cape Cod style. The dining room and living room both are one large room, broken up by merely flooring (carpeting and laminate.) The layout of the kitchen, dining room, and living room would be considered open concept minus the cathedral ceilings.


It is a nice sized area, however there is nothing that distinguishes the dining room as a separate area from the living room other than the flooring, so I decided that I would paint the far shorter wall an accent color.
The theme of my dining room area is wine and Paris. I love the Romanticism of the two and decided that a deep red would bring out the colors of my wine portrait and really add some depth to the dining area.
Also, as most accents walls are traditionally about 2 shades darker than the surrounding walls, this color was a very appropriate choice as the walls all around are stark white.
Also, this particular wall was chosen as not to emphasize the elongated-ness of the living room/dining room.
As you can see in the picture, I believe that it's truly added some character to the dining area and helped to establish the area as its own room.
Another note to add would be that we had had our home up for sale for many months and kept hearing the same old thing, that our living room was small.
Well, after we spruced up the dining room area, it seemed as though everyone's eye was drawn towards that area and we didn't hear another comment about our living room size anymore! So, it can be beneficial in more ways than one!
Click here to share your accent wall idea and see your name in lights!