Accent Wall in a Kids' Room
by Jeni
(San Francisco, CA USA)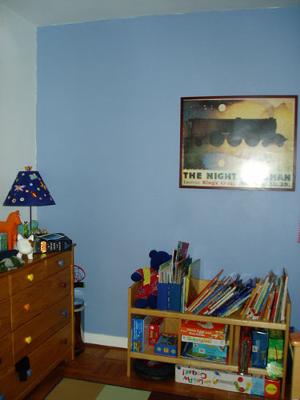 Blue accent wall in my children's room
We recently livened up the small room (approximately 10 x 12 feet) that our kids share by painting one of the walls a warm blue color. We pulled this shade of blue from the train poster hanging on the wall – I bought the poster long before I had kids and loved its soft-but-not-pastel colors.


I love the fact that it is a fresh, fun color without being too kiddy or too boyish or too girlish because we could use this room as an older child's room, a guest room or office later without having to change wall the color.
That same blue ended up appearing in small doses in the rug (by choice) and lamp (totally by accident, as it was a gift), and I painted the dresser drawer pulls to match the colors in the poster as well. The bedspreads are also light blue.
Having splashes of the same color throughout the room really makes the small room look more pulled together (even when all the toys are out everywhere!), and lends interest to a wall without any windows, doors or other features.
With the room's sunny windows located on the opposite wall, I think the darker color also makes the wall seem to recede a bit more, making the room look larger. We also painted the sliding closet doors on an adjacent wall the same blue.
An accent wall is such an easy way to introduce a splash of color without committing to a whole room's worth of color. I'm very happy with how it turned out.
Click here to share your accent wall idea and see your name in lights!