A Shade of Yellow Tan Paint on Our Living Room Walls
by Eric
(Philadelphia, Pa, USA)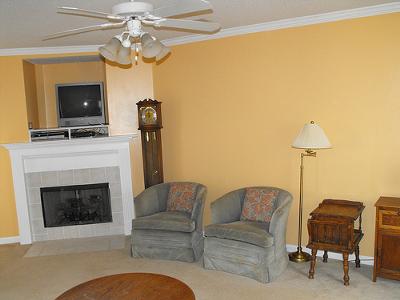 Our living room walls painted a yellow-tan color
Hi, well me and my wife recently moved into this house (can you tell by the mismatch furniture?), and we decided to paint our walls tan in the living room.

My mother's house had beautiful tan walls to match their brown and tan furniture and pillows, so we tried to mimic that color scheme.


The color we chose was
Bridge Water Tan
, which looked great on the sample card in Home Depot.
We bought three gallons for about $40 each and a couple paint rollers and two paint trays and rushed home with excitement and anticipation.
We already had white primer - we needed it to cover the light purple walls the previous house owner had.
After about five hours of priming we called it a day and went to bed excited about tomorrow's painting.
We woke up the next morning and immediately started painting. After beginning to roll the paint on the walls we both noticed that the paint looked a little lighter and more yellowish than we had expected since the sample card was darker and richer.
We continued anyway assuming that it would take on this brilliant color after two or three layers, which the can indicated would be necessary.
Needless to say the paint never took the color of the sample card, I was very disappointed but my wife seemed to like the new brighter color better since she said it made the room feel brighter by reflecting more light.
It's been a couple months now since we did this project and I must admit that the color has grown on me. We still haven't been able to afford furniture, but we plan on getting brown, tan or white, or a combination of the three.
Just as
a piece of advice
to anyone else that is going to begin painting their house, the sample cards are nice but we suggest asking for a sample of an actual painted piece.
If they won't give you this then just buy one can and try it on a wall inside a closet in your house to see how the color turns out. Good Luck!
Click here to share your paint color idea and see your name in lights!