Unusual Accent Wall in My Room
by Prakhar Bhatnagar
(Mumbai, Maharastra, India)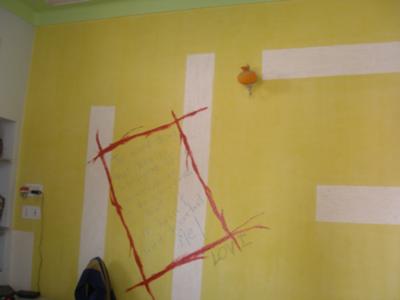 Yellow Accent Wall


The picture is of my room - where I work, and spend my whole day.

I was thinking of adding an accent wall to shake things up, but wasn't sure what exactly I wanted. So I decided to use Photoshop to help me come up with ideas for my wall.

I picked yellow color for the base/background, because I like yellow - to me it is a color of sun, of never stopping energy and joy. Since I spend so much time in this room working, playing, etc., I wanted it to be full of life and energy, and pleasing to my eyes.
I also added some white bands to break up the wall and create interest/surprise.
Then I called professional painters who transferred my Photoshop idea into reality. They used some special finishes/techniques to give the design an extra edge.
And as a finishing touch I decorated my wall with a frame that I simply painted on. This element I like the most. I love writing good stuff on my wall, sometimes motivational and funny. I can change the message any time I want, because I use colored chalks, and the wall paint is washable.
I was creating this feature wall for myself, but to my amazement i got so much positive response from everyone who visited my room!
See also:
Creative Accent Wall Painting Ideas