Useful Tip from Painting Contractors:
NJ Homeowners Can Repaint Less Often
Here's a great money-saving tip from painting contractors - NJ homeowners, listen up! If you would like to enjoy the clean, fresh look of newly painted rooms much longer and delay the need to repaint, there is a solution...
Until recently, homeowners had to choose between the aesthetic appeal of flat paints (which get soiled quickly) or the washability of enamels (which are usually a bad look for the walls and ceilings) for their South Jersey painting projects.
But you don't have to compromise any more, because now you have a 3rd choice - washable matte paints, and you can use this product for any interior painting in New Jersey.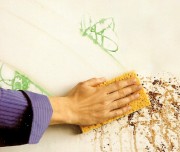 Washable paints (such as Duration paint from Sherwin Williams shown on the left) offer a beautiful matte finish that can enhance the look of any room where a regular flat paint is normally used, such as living rooms, bedrooms and family rooms. But, unlike regular flat paints, washable paints create a hard, non-porous surface that repels stains and doesn't allow them to penetrate, thanks to a special cross-linking technology.
This heavy-duty paint is specifically designed to stand up to repeated washings without showing any signs of wear, making it a perfect choice for any part of the house, but especially for high traffic areas like kitchens, hallways, bathrooms and kids rooms - where dirty fingerprints, oil and water splashes, toothpaste and crayon marks on the walls are often an everyday occurrence.
With washable paint, housekeeping becomes a breeze, because now most household stains can be easily wiped off using just water or mild soap, without leaving burnish marks or fading the color.
So there you have it - a great paint alternative that will help keep surfaces looking clean, longer and also save you money, because you won't have to repaint your home's interior as often anymore. Some New Jersey house painters can even show you a sample product demonstration!
Looking for Painting Contractors
NJ Area?

See also:
Home Painting in New Jersey: Cape May county, NJ: Avalon 08202 Cape May 08204 CMCH 08210 Ocean City 08226 Sea Isle City 08243 Seaville 08221 Stone Harbor 08247 Woodbine 08270. House painting - New Jersey company in Atlantic county: Atlantic city 08401 Brigantine 08203 Egg Harbor Township 08234 EHT Galloway 08205 Linwood 08221 Longport 08403 Margate city 08402 Mays Landing 08330 painting contractors NJ in Northfield 08225 Smithville 08201 Somers Point 08244 Ventnor 08406. Exterior and interior painting - South Jersey in Camden county, NJ: Barrington 08007 Berlin 08009 Cherry Hill 08002 08003 08034 Gibbsboro 08026 Haddon Heights 08035 Haddonfield 08033 Sicklerville 08081 Voorhees 08043 - professional painting contractors - NJ area.