Accent Wall Paint Colors for a Teenager's Room?
by Ashley DeVoe
(Green Bay, WI)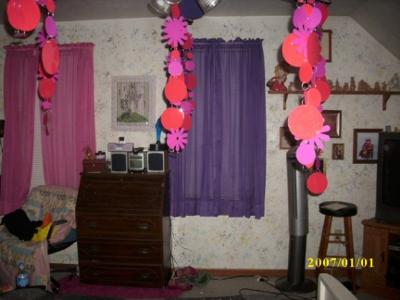 What paint colors will look good with pink?
Well I want to paint my bedroom, and I want to paint it pink. My mom says that I need an accent wall, but I don't know what color it should be when I want bright pink walls? My ceiling is off white.
Here are more pictures of my room: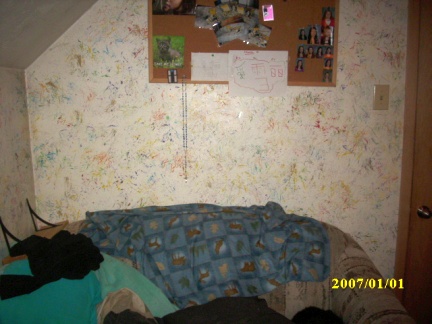 Please excuse the mess. And if you could please get back to me as soon as possible. Thanks, hope to hear from you soon. I really appreciate the help.
Yelena's Response:
Ashley,
Because of the shape/layout of your room, I really don't think you "need" an accent wall. But if you still decide to create one, it should be the small wall between the couch and the TV stand.
As far as paint colors, here's a picture I've found for you: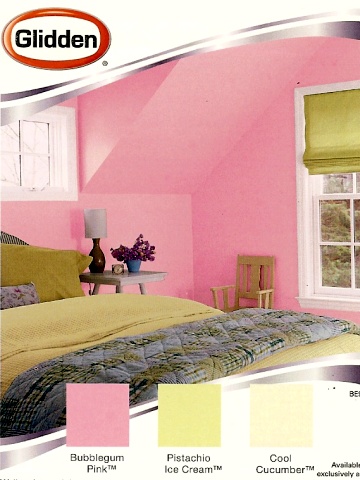 The colors are: "Bubblegum Pink" for the walls, and "Pistachio Ice Cream" for your accent wall. These colors are from Glidden (you can buy these paints at the Home Depot).
***z-adsense-med.shtml***
You didn't say whether or not your current decor will be staying after you paint the room. But based on the existing colors I see, it should be very easy for you to create a similar look!
If your mother will let you, re-paint all your furniture pieces, shelves, baseboards, trim and door white (try to match the white to your bed). That way, everything will look so much better - updated, consistent and pulled together! Lighter and fresher, too!
If you want a white ceiling, use the same shade of white as your bed (and other furniture if you re-paint it).
Or, you can paint your ceiling the same pink, or a shade lighter than the walls - also a good look.
Just make sure you use flat finish on the ceiling.
Your walls can be flat or eggshell. For painting your furniture, use an oil-based primer and oil-based paint.
This paint color combination will work for any age, and I'm sure you will enjoy this look for many years!
***z-c20-links-interior-color.shtml***